Villa Estea Wedding Trend Party # WTP2016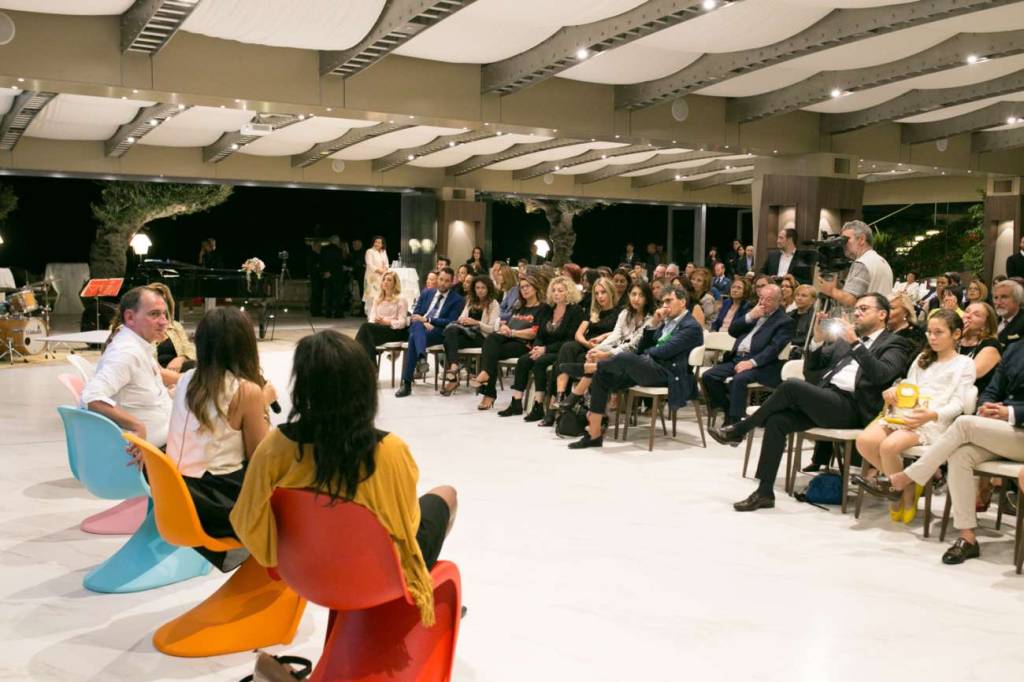 #WTP2016, the Wedding Trend Party organised by Villa Estea in media partnership with ELLE Spose, brought together over two hundred of the most respected professionals in the wedding sector on September 29th to discuss the wedding trends for 2017.

It was a magical evening thanks to the scenery with its breath-taking views of the Trabocchi Coast, and the impeccable reception of the hosts, who welcomed guests with a drink by the pool and relaxing background music by the Instable Quartet.

The leading journalist Evelina Frisa opened the talk by presenting Elle Spose's editorialstaff, and fashion editor Giovanni Sparacio tackled one of the most anticipated themes of the evening, namely the trends in the bridal fashion shows. The 2017 dresses abandon the minimalist trend for a more precious and elaborate style, with large volumes, light fabrics, with attention focused on the back, great plays with transparencies and the return of sleeves.
When talking about wedding dresses, it is impossible not to mention couturier stylist Peter Langner, who, appearing live from Paris, described his romantic wedding collection featuring clean lines and fine fabrics.

<div class="video"><iframe allowfullscreen="" frameborder="0" height="315" src="https://www.youtube.com/embed/Dw8bSfu0NcA" width="560"></iframe></div>

From wedding fashion, the discussion turned to new market trends, such as same-sex and destination weddings, or civil unions between people of the same sex and weddings for foreign couples who decide to marry in Italy. Wedding planner Maria Macchiarella recounted her experience as the organiser of the first gay wedding in Palermo, an important achievement for the whole of Italy, but especially for Sicily.

Afterwards, Emma Events, a wedding planner specialising in the organisation of destination weddings on the Amalfi Coast, introduced the subject of what foreign spouses who choose Italy for their Big Day are looking for. Destination weddings is a trend that began more than 10 years ago, and is constantly growing. The towns of the Amalfi Coast have understood the great potential of this market, and have approved civil ceremonies even outside the town hall in locations and spectacular venues that are much sought after by couples looking to marry.

This interesting talk was followed by the refined culinary creations of chef Franco Spadaccini who, with his restaurant La Grotta dei Raselli, is the official caterer for all events held at Villa Estea. For the toasts, wines from seven Abruzzian cellars (Mucci cellars of Elisa Mucci, Bosco Nestore of Stefania Bosco, Tenuta I Fauri of Valentina Di Camillo, Chiusa Grande of Ilaria D'Eusanio, Cantina Di Biase of Lia Di Biase, Azienda Stefania Pepe of the eponymous producer and Vini Mastrangelo of Martina Danelli), sampled to background music by maestro Luigi Genovesi on the piano (special thanks to D'Intino Music) and Interplay Jazz.

So much pleasure from this first edition of the Wedding Trend Party, which makes us think of a next, even more sparkling edition!
Photos of the evening can be found on our Facebook page »